Fig 2. - Head Dimensions of Down's Syndrome Children compared with normal.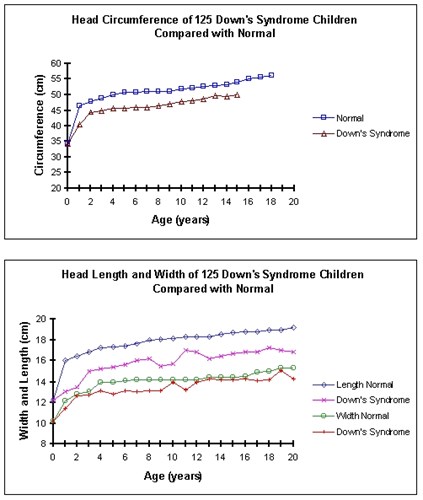 HEAD DIMENSIONS of DOWNS SYNDROME CHILDREN COMPARED with NORMAL

                                                                                                                                                                    (redrawn after Benda [2]).
Head growth, indicated by mean circumference, length and width of Downs syndrome children (n=125) compared with normal, from birth to age 20 years.
Circumference indicated by &127; (normal), D (Downs syndrome)
Length indicated by > (normal), X (Downs syndrome)
Width indicated by O (normal), + (Downs syndrome)
A. - Circumference of heads compared to normal. Note the delay in growth of head circumference during the first year. At two years the circumference of the Downs syndrome head compares to that of a 9 month old normal baby. Thereafter the head expands slowly, about 5 cm behind the normal for the age.
B. - Length and width of heads compared to normal. There is marked delay in growth in length of the Downs syndrome head. The width is relatively better developed but remains below normal.